Gift the gift of Knowledge!
An In-Home Cooking Class is a gift they will always treasure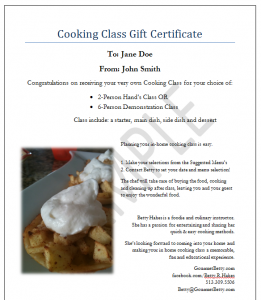 Let them choose from either a "6 person demonstration Style Class" or a "2-person Hands On Cooking Class".

Gift Certificate includes:
√ Full Menu:
1. Appetizer
2. Main Dish
3. Side Dish
4. Dessert
√ Chef brings all food
√ Recipes and Instructions
√ Personalized attention
When buying the certificate, Betty can either email you the certificate or mail it directly to the gift recipient.  Once you purchase, you'll be contacted you directly for the details.
I am independent business owner who enjoys sharing her passion for cooking and teaching.
Contact me directly at betty AT GourmetBetty DOT com or call 513.309.5506.
ORDER NOW for Only $350
Once you place your order with Paypal, I will receive an email of purchase confirmation. I will then contact you via email to confirm the gift recipient name and your name to create the certificate.  I can either email you the certificate for you to print, or mail them the certificate directly — just let me know what you prefer.  
If you choose not to use Paypal, please contact me for details on sending money via check or other means.  – Betty Hakes