I am excited to share with you my recipe for a delicious and nutritious Roasted Carrot Soup with Ginger and Coconut Milk. This soup is perfect for any season, as it is both hearty and comforting, yet light and refreshing.
After roasting the vegetables you can use a blender, as I do, or you can also use an immersion blender. The goal is to puree the soup until it is smooth and creamy. If the soup is too thick, you can add more vegetable broth or water to thin it out to your desired consistency.
Finally, taste the soup and adjust the seasoning with salt and pepper as needed. Serve the soup hot, garnished with a dollop of coconut milk. You may also choose to garnish it with some fresh herbs or crusty bread on the side.
This roasted carrot soup with ginger and coconut milk is not only easy to make, but it also freezes well, making it a great meal prep option for busy weeknights. I hope you enjoy this recipe as much as I do!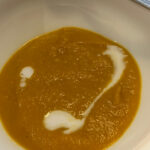 Roasted Carrot Ginger Soup
Print Recipe
Delicious recipe that makes great use of left over carrots. It's also very flexible, you can add different spices to make this your own. Roasting the vegetables first bring out the flavors of the carrots and also makes it super easy to make. Great for making ahead and warming up at last minute.
Ingredients
1

lbs

carrots

washed and cut about 1" pieces

1

onion

quartered

2

inch

piece of fresh ginger (.5 ounce)

5

cloves

garlic

unpeeled

1

tbsp

olive oil

1/4

tsp

cumin

1/4

tsp

smoked paprika

1/4

tsp

fresh ground pepper

1

tbsp

Kosher salt

divided

pinch

red pepper flakes

4

cups

low-sodium vegetable broth

1/2

cup

coconut milk

reserve extra for garnish
Instructions
Place veggies on a sheet pan using either parchment paper or a Silpat. Sprinkle vegetables with 1/2 tsp salt, pepper, cumin and paprika. Roast for about 30 minutes or until vegetables are soft. Note that you're roasting the garlic and fresh ginger unpeeled.

Once the vegetables are cool enough to handle, remove the skin from the garlic and peel the ginger.

Place all ingredients in a high powered blender with a pinch of red pepper flakes and the remaining 1/5 tsp of salt. Add broth and 1/2 cup of the coconut milk and blend until pureed. Taste seasonings and adjust to your palate. If you like the soup more smokey, increase the amount of paprika and cumin. If you want it spicer, add more red pepper flakes or other ground pepper.

Depending on your blender and how long it will be until you eat, you'll want to warm up the soup in a small sauce pan. I make this big batch, warm up a small amount and immediately freeze the rest for another meal. 

Serve warm with a drizzle of coconut milk. Alternatively, you can use a cashew cream or make it non-vegan with creme fraise.
Notes
I love this recipe because it's so adaptable to your preferences and ingredients at hand. As an example, if you had a small butternut squash, you can dice that up and ad that to the pan of roasted carrots. You can use shallots instead of an onion.