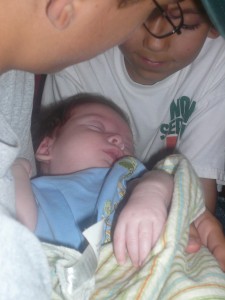 One of my readers writes to me looking for a recipe for "Alinado." He explains this drink is made when someone is pregnant and then drunk in celebration once the baby is born.
I had never heard of this before so I forwarded the message out to my Cuban family and friends. My sister married a man from Oriente, and his family is the one with the information!! I'm thinking this must be a local tradition to Oriente because I have never heard of this before. My family is from Havana and my mom lived in Pinar Del Rio and Marianao for a little while.
Here's the tradition: Once someone is pregnant, someone in the family makes the Alinado (directions follow below) then it is put in a big bucket or container and it's buried underground until the baby is born.
Once the baby is born family and visitors drink it to celebrate the birth of the baby.
I think it's actually a pretty cool tradition!! What do you think? Are you from Cuba and have heard or participated in this tradition? If so, comment here — I'd love to hear about it.
Graciela (my sisters' mother-in-law) explained the recipe to me, but can't give me specific measurments, this is the best I can do right now:
Alinado Recipe
You will need to double this recipe as necessary. Graciela just eye's this and "feels" the right amounts. You'll need to experiment yourself. Follow your heart and I'm sure it will be awesome!
1 cup sugar
1 cup water
1 package ciruelas pasas (prunes) ** must have
Fresh fruits such as: apple (cubed) and grapes
2 cups Rum
Make the syrup: Bring water to a boil, stir in sugar.
Turn heat to low and stir constantly until the sugar dissolves completely.
Remove from heat and add fruit and rum to taste.