Have you been searching for ceviche recipes? I'm sure you've encountered a wide array of shrimp and fish ceviche recipes with all sorts of different ingredients and methods.
The recipe below reminds me of my childhood.  My family, especially my father, loved shrimp ceviche (aka: Ceviche de Camarón). In the area that I grew up in Miami there was one restaurant where we always bought it from, Don Fernando on Bird Road. And actually, he started his business out of a fish truck on the side of the road.  I'll probably never forget that fish truck on the side of Bird Road!  My mom would stop there on her way home, ask them what fish he had caught that day, and always added a couple of orders of the shrimp Ceviche.  Every time I get to Miami I always try to stop by, but until then… I'm making my own. Don't tell Fernando's wife I believe to have mastered  her recipe…
About the recipe, traditionally, the fish or shrimp is "cooked" by marinated it in lime for 24-48 hours, but I discovered this quick and safe way to make it. It taste just the same!  Also take note about frozen shrimp.  It's best to defrost shrimp overnight in the refrigerator  but if your in a pinch, running them under cold water for about 30 minutes also works.
Cuban Style Shrimp Ceviche
Juice from 4-5Limes (8 oz), freshly squeezed (reserve rind from 1 lime)
1 lbs Shrimp, peeled and deveined, tails off
3 cloves of Garlic
½ Tbs Kosher Salt
1 small Red Onion, diced
3 Tbs Cilantro, diced

1 Serrano or Jalapeno 

pepper, diced
1 small Red pepper, diced
Saltine Crackers (optional)
1/2 cup Cocktail Sauce


1 TBS Horseradish (or to taste, optional)

 
1. Squeeze limes, add juice to a large bowl.

2. Bring about 4-6 cups of water, garlic, salt and reserved lime rind, to a
rolling
boil. Add shrimp, cover and turn off heat.  Leave Shrimp in water 2-3 minutes or until pink.
3. Once shrimp are pink, remove from pot and shock in ice cold water. This helps stop the cooking process. You don't want to overcook the shrimp.  Once cooled, chop into 1 inch pieces and add into the bowl with the lime juice.
4. Dice onion, cilantro, and peppers (Red & Jalapeño) and add to same bowl with shrimp.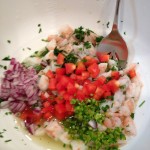 5. Add Salt and Pepper to taste, cover and refrigerate for at least 1 hour or up to 24 hours.
6. Mix in horseradish with cocktail sauce and refrigerate  until ready to serve.
7. Serve Shrimp Ceviche in a small bowl (or pretty martini glass) with a side of saltine crackers and the cocktail sauce.